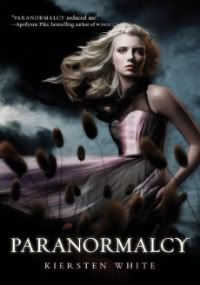 Published date
: 31st August 2010
Evie's always thought of herself as a normal teenager, even though she works for the International Paranormal Containment Agency, her ex-boyfriend is a faerie, she's falling for a shape-shifter, and she's the only person who can see through paranormals' glamours.
But Evie's about to realize that she may very well be at the center of a dark faerie prophecy promising destruction to all paranormal creatures.
So much for normal.
I just finished my first book in the Wish I'd Read That Challenge, 11 more to go! Well here goes.
Wow..just wow. This was such an awesome read, it's so hard to put down. I was expecting something that's dark in the story, but boy was I wrong! This book was like a breath of fresh air for me and it's different from the usual paranormal books I read. I came across different characters that were so unique. It's fun and fascinating to know about what goes on in the agency, and how Evie deals with her job. Her job is to keep the paranormals and humans safe. But then she meets the mysterious Lend, and she tries to find out what he is. Then IPCA figured out that paranormals are being killed at an alarming rate and they have to do something about it,
fast.
And on top of that Evie has to deal with her relentless faerie ex-boyfriend.
Now Evie, she is such a fabulous character, and one of the strongest heroines I've ever come upon in a story. She's fun, sassy and sarcastic, she kicks butt but then she's someone whom you feel like hanging out with. She's also insecure but it's in a way that's delightful. Evie never really knew what she was but then the secrets and facts start to come through to her, and she had to face some tough situations. I was impressed on how she was willing to take risks. I was impressed by one more thing, the romantic storyline with Lend. He's just got the depth and sensitivity that felt so right. Their relationship felt genuine, and not too sudden as it progresses really well, unlike other books where the characters just fall madly in love in an instant. Their relationship builds up in a pleasant and relatable way that makes you go "aww".
This book is just different, the plot was amazing, keeps you guessing (although it drags on a little bit at some parts) and it's got a little bit of everything. It stands out in all the right ways yet it presents us the things we've come to know and love within the paranormal genre. I can't help but smile over the amount of sarcasm in this book, which makes it very memorable. Of course there is action in the story and some interesting and intriguing scenes relating to Evie's conflicts and struggles. Kiersten's way of writing is very fun and refreshing, the dialogue between the characters made the book an easy read. She has created an awesome, complex world that is described in such a natural way for us. I can't wait for the next book, Supernaturally.